Outstanding service and quality workmanship.
Competent Roofer Scheme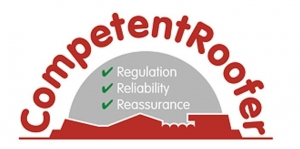 Crescent Roofing is a memeber of the Competent Roofer Scheme which means we can streamline a reroof project and keep costs down. You will have the added reassurance that the roofing contractor is regularly inspected, is competent and complies with Building Regulations.
By using a registered CompetentRoofer, you can save not only time and money but will have the added reassurance that the work carried out complies with all relevant standards and importantly, that your legal obligations are met.
Competent! – CompetentRoofer contractors are fully audited and inspected prior to joining the scheme, and regularly throughout their membership.
Compliant! – Registered CompetentRoofer contractors must not only work to the current Building Regulations, they are also audited against the most up to date British Standards.
Certified! – CompetentRoofer members are uniquely authorised to self-certify that their work complies with the current Building Regulations.
Trust Mark

Crescent Roofing is passionate about meeting high standards of customer service.
The company is approved by TrustMark and have signed up to their code of practice.
When a firm displays the TrustMark logo they have been approve and inspected by the scheme. Crescent Roofing is monitored on quality of work, trading practices and customer satisfaction and meets the required Government endorsed criteria.
Consumer protection is at the heart of what TrustMark does as an organisation as it strives to ensure consumers have optimum comfort, choice and confidence when choosing traders to work in or around their homes.
One of the ways this is achieved is through the championing of our Registered Businesses – the firms that can be trusted to do the 'right thing.' We offer a range of benefits to help these competent, quality-minded firms offer their customers the best available service and protection.