A GRP or fibreglass roof is a flat roofing solution suitable for both domestic and commercial applications.
Crescent Roofing is an approved installer of Topseal GRP
"Topseal is the UK's premier GRP roofing company, providing the most advanced GRP roofing systems on the market, through a network of highly trained and approved installers"
Its durability means that this type of roof lasts a long period of time without deterioration.
This makes a GRP roof popular with many customers as it carries lengthily guarantee.
GRP roofing has grown in popularity due to its versatility and wide choice of colour options.
A GRP roof can be suitable for a multitude of applications, from a small garage or dormer roof, to a complex commercial project.
Any flat roof can benefit from the smart finish and long life of this product that can provide complete waterproof protection for 100-years or more.
What is GRP roofing?
GRP stands for 'Glass Reinforced Plastic' a material made from a polyester resin, which is reinforced by chopped strand mat glass fibres to form a GRP laminate.
GRP flat roofing systems combine a number of materials including OSB3 board decking, Topseal resin, fibreglass matting, Topseal durable topcoat and Topseal fibreglass preformed trims to create a roof that's not only tough and impact resistant but also attractive and pleasing to the eye.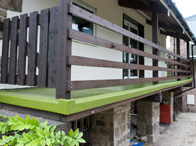 Approved Installer
Crescent Roofing is an approved installer of Topseal GRP
For more information please visit their website Topseal
We can provide linked guarantees with our suppliers to provide assurance of longevity against both the materials and workmanship.